Gift card
Nha Xinh Gift Vouchers are delicately and luxuriously designed with a unique pattern on the outside, combined with high-quality bow ties to enhance the beauty. Everything is done to convey your best wishes to the recipient. 
Gift card FAQs
1. What are the denominations and validity period of the gift voucher?
There are four denominations:
1.000.000 VNĐ
2.000.000 VNĐ
5.000.000 VNĐ
10.000.000 VNĐ
The validity period is indicated on the gift card.
2. What is the payment value of the gift voucher?
The Gift Voucher has the same payment value as cash at any Nha Xinh, BoConcept, or Calligaris store in Vietnam.
A voucher is not exchangeable for cash and change will not be refunded.
After the gift voucher is redeemed, value-added tax (VAT) will be charged to the voucher buyer.
In the event that the Gift Voucher user needs to issue a VAT invoice, the company will only invoice the excess value of the order compared to the Gift Voucher.
3. Can the gift voucher be used in conjunction with other offers?
Customers who buy gift vouchers are entitled to the incentives as prescribed if they are the owner of the VIP card (Diamond, Gold, or Silver) of Nha Xinh.
Gift vouchers cannot be used to participate in other promotions.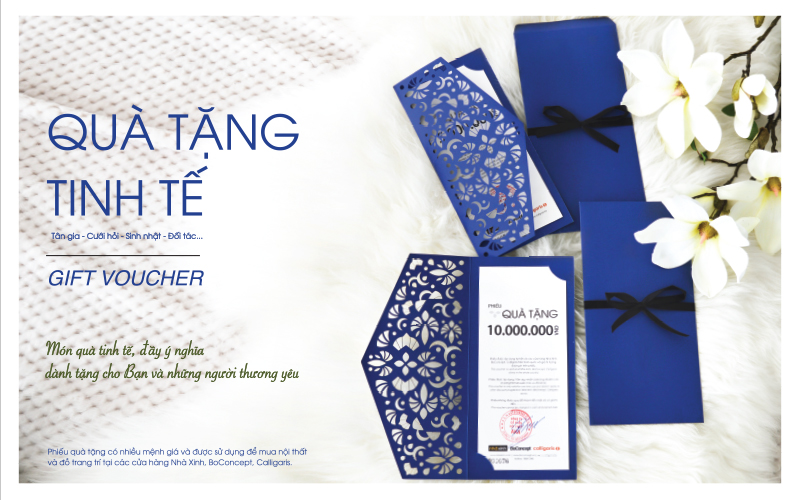 A valid gift voucher is one with the prescribed form, serial number, company seal, and signature of the Board of Directors of AKA Furniture Group. The voucher must be intact, not erased or patched.